I was due to go to Geneva, NY last weekend, but the snow had other plans. I was really disappointed not to be going, so I thought I'd write up a little bit about this lovely town that I've been visiting every so often for four years.
Geneva is a little over five hours outside of New York City, just between Ithaca (another lovely weekend trip I'm hoping to write about someday soon) and Rochester. It's located on scenic Seneca Lake (also home to Seneca Falls, of
Seneca Falls Convention
fame) in the middle of the
Finger Lakes
region. The town is home to
Hobart and William Smith Colleges
, also known as "where my boyfriend goes." It also has a really quaint little village center with Victorian buildings lining an idyllic Main Street, and lots of antique and second-hand shops.
Probably the most popular reason to go up there is visiting the wineries, and they are a lot of fun, although someone has to drive unless you take a tour with a trolley (I'm not actually sure this
exists, but I know there's a trolley, so maybe it goes on wine-tours sometimes). There are several good ones along the lake, and my favorite is the
Miles Wine Cellars
. There are several reasons this is my favorite, and none of them have much to do with the wine, which I really like, but since I don't know very much about wine, it isn't too hard to impress me. First, the cellars are in a Greek-revival mansion overlooking the lake, surrounded by weeping willows. We haven't gotten there on this blog yet, but you'll find I'm really, really into historical homes. Second, the tasting, which is $2.50 (about average for a tasting, though some are free), includes a taste of every one of their wines and a glass to take home. This is a nice value, because you get a little souvenir of your trip, and most other wineries make you pick a few of their wines to taste instead of sharing all of them. Third, they have a bottle that has a ghost on it. If you're looking for other wineries to try, we have friends who work at
Billsboro Winery
(hey Jenna and Victor!), and that one is actually in Geneva, as is
Belhurst Castle
, which is also apparently popular for weddings and graduation dinners, and
Fox Run
.
I suspect you could also rent a boat on the lake, which I think would be wonderful. I haven't done that, th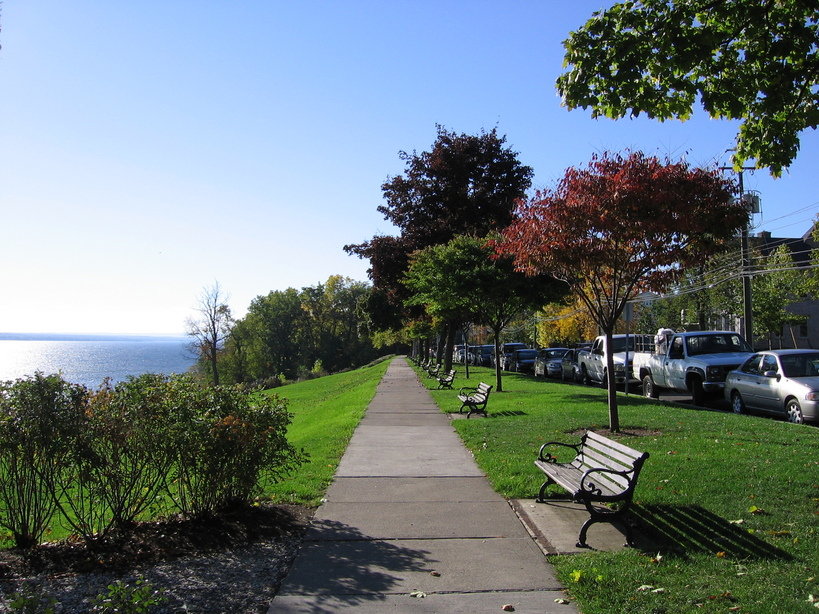 ough I have eaten wine ice cream (from
Long Pier Ice Cream
, I believe) on its shores, and know people who have jumped in it in February. It's very picturesque at all times of the year, and there's a nice walking path around it, which makes for a nice morning jog or walk, with lovely views of the HWS boat house (and sometimes sailing team). If you follow some of the trails that aren't paved, you may stumble across the train tracks. That's another thing I should mention: I believe you can take a train up from Manhattan, although I'd recommend bringing a car, since it's a little difficult to get around without one. If you walk on South Main Street, there are more lovely views of the lake, and you can take in some gorgeous historical houses and apartments as well.
Geneva apparently has a nice little farmers' market, but I've never visited. I have, however,
been to the
Red Jacket Orchards
stall in many farmers' markets in the city, and so the chance to actually visit the flagship store was wonderful. Try their pressed cider or amazing juices, and imagine having this every weekend and ask me why I ever moved out of Brooklyn. Many restaurants and shops in Geneva are focused on local eating, which is something I really value, so I always jump at the chance to get syrup or wine, and so should you. And speaking of restaurants, try Waterstreet Cafe for breakfast, which has some good, filling and cheap meals. The
Red Dove
has some nice entrees for dinner. We're trying
Ports Cafe
for my birthday this weekend, and
Belhurst
for Roger's graduation, so expect edits to this later. [EDIT: Both Ports and Belhurst were wonderful, if a bit fancier than our normal digs in Geneva.] During the summer, the
Garlic Festival
has some really interesting foods (like pickled scapes and some really good cheeses), and
Normal Bread
has some wonderful breads (another bit I loved at our farmers' market). Finally, Roger's favorite coffeehouse is called, unsurprisingly,
The Coffee House
. They have really fun flavored coffees and wi-fi.
Some other things to try while you're in Geneva include the
Geneva Rollerdrome
and the
Corning Museum of Glass
, along with
Watkin's Glen
, which LL Bean says is one of the best gorges in a region of gorges. I haven't done any of these things, but I hope to in the next three months. If you can make it into a HWS party, those are also very interesting, and quite different from Sarah Lawrence parties. In general, they are more welcoming and have less dancing and more beer pong. I've been up there in almost every month of the year by now, and I can say that it is absolutely at it's most beautiful during the summer and fall. During the winter, it seems to flurry almost all the time, making it feel a little like living in a snowglobe, and while that's pretty romantic, it also means it's always freezing and gray. If you'd like to know a little bit more about Geneva, feel free to listen to a play list that I think perfectly describes it here:
http://listen.grooveshark.com/#/playlist/Geneva+2010/25823337
or check out pretty much any one of my facebook photo albums since 2006.